Listeners
Welcome to Matt Plewes' Plewes Center.
英会話 / カンフー護身術 / 結婚牧師 / ホームページデザイン
Plewes Center is an umbrella organization of several services and businesses. Most services are provided by or supervised by owner Matt Plewes. Plewes Center is located in Shizuoka, Japan.
Personal Services: Language Services, Self Defense and Martial Arts, Longevity Training – Tai Chi, Chi kung, Zen Meditation, Lomi-Lomi Hawaiian Massage, Deep Muscle Massage, Home delivery Massage, Home Delivery English lessons, Home Delivery Self Defense.
語学サービス、英会話、カンフ、護身術、長寿トレーニング–太極拳、気功、禅瞑想、ロミロミハワイアンマッサージ。
Businesses: Liberty English Schools of Shizuoka, Plewes Closets- Remodeling, Chuntian Academy International – CAI Kung fu, Shizuoka Wedding Pro. – Wedding Officiating in Japanese or English, Matt in Japan Podcast, Homepage Design and Services and Martial Arts Certificate Designs.
静岡のリバティイングリッシュスクール、プルーズクローゼットの改修、チュンティアンアカデミーインターナショナル– CAIカンフー、静岡のウェディングプロ(結婚式式牧師)。 –日本語または英語での結婚式、日本でのマットポッドキャスト、ホームページのデザインとサービス、証明書とロゴのデザイン。
Legal – Matthew Plewes is licensed, accreditied and/ or certified, qualified and experienced in all services offered.
法務: マシュープルーエスは、提供されるすべてのサービスでライセンス、認定、および/または資格を取得し、経験を積んでいます。 マシューはまた、アメリカの認定救急医療従事者および産業エンジニアであり、国際的に受賞歴のある武道の教師でもあります。
Homepages & Youtube:
Youtube #1 MattPlewes
Youtube #2 Matthew's Fun English
CAI Kung Fu-Self Defense(カンフー護身術)
Juli's Kitchen (Food Club)インドネシア料理
Mattie's Homepage & Youtube Channel
カンフー護身術1ヶ月の無料レッスン:大人の:土曜日:19:00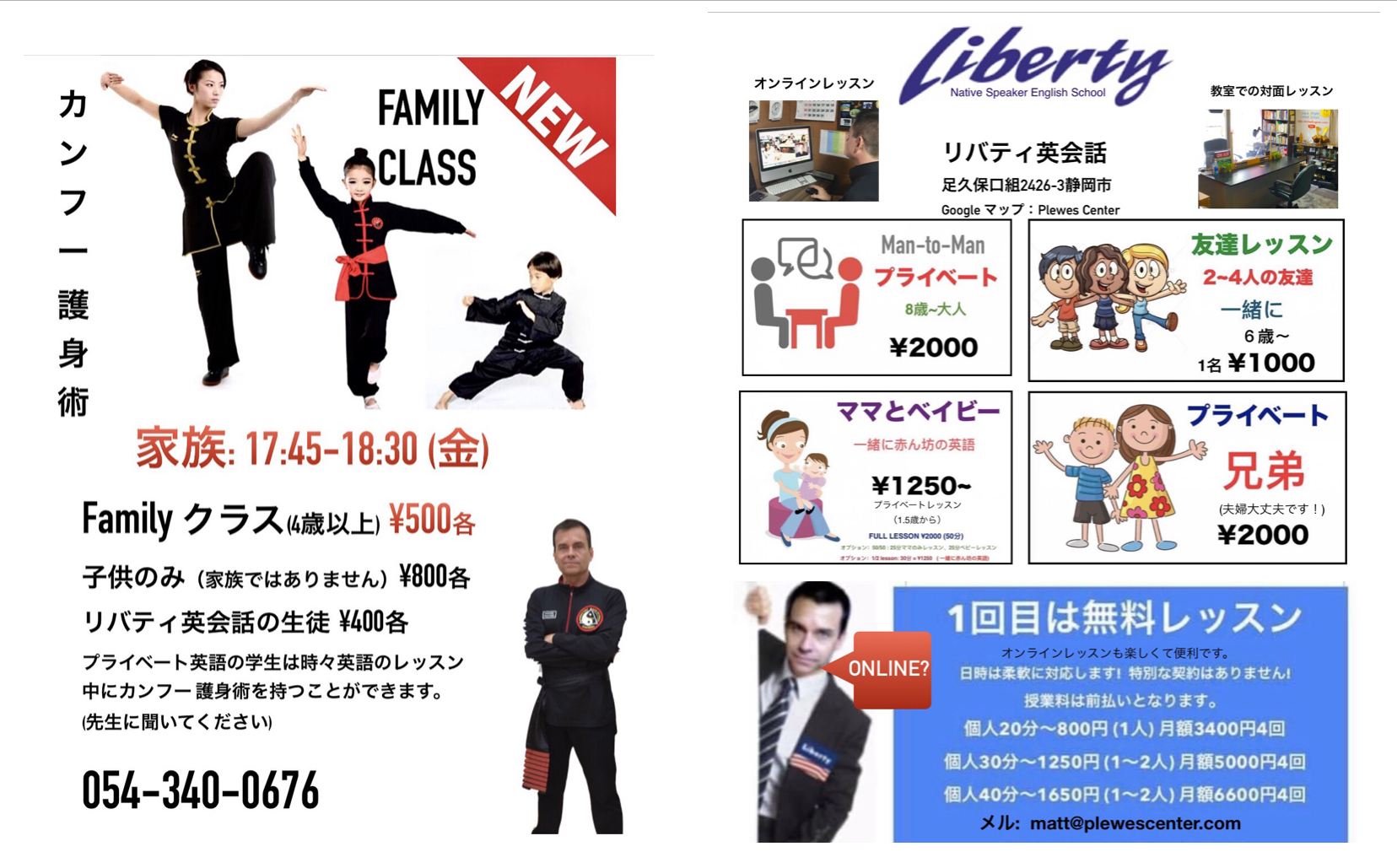 SPRING CAMPAIGN – カンフ護身術1か月無料レッスン!